The history of the world can be taught in six drinks – beer, wine, spirits, chocolate, coffee & tea. It is no wonder the antique silver relating to these drinks is so popular with collectors.

Early silver coffee pots closely resembled tall ewers first noted in Arabia. But tea requires steeping, not boiling, and requires a vessel in which whole tea leaves may unfurl and steep. A shorter, rounder vessel evolved so that the tea leaves would have more room to swirl around.

Because tea was so expensive and later (1600's) so heavily taxed, the earliest silver tea pots were very small and took their shape from the Chinese teapots which did not have a strainer at the base of the spout to hold back the tea leaves. After years of trying to keep the spout unclogged, and dealing with particles of tea floating in their cup, the mote spoon appeared on the tea table. Additionally, interior strainers were also added to the design of spout of the teapot.

The service of tea and/or coffee before about 1800 required assembling items from all parts of the house &mdash and components did not necessarily match. The standard five/six piece "tea and coffee service" as we know it today, is rarely seen before 1800.



---
George III Silver Teapot & Stand
London, 1787 #20084
Maker: Henry Chawner
(Grimwade #972)
Octagonal faceted bright-cut engraved with matching
contemporary crest & monogram on pot and stand
Excellent condition Length: 11 inches Height: 7 1/4 inches on stand Weight: 17.59 ounces troy (547.3 grams)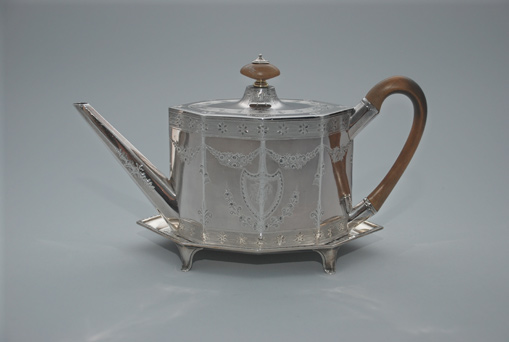 George III Silver Teapot & Stand
Oval Fluted ##20061
London, 1795
Maker: Charles Aldridge
(Grimwade #264)
Crisp bright-cut engraving, matching monograms on pot and stand
Excellent condition Length: 12 inches Height: 6 1/4 inches on stand Weight: 23.26 ounces troy (723.6 grams)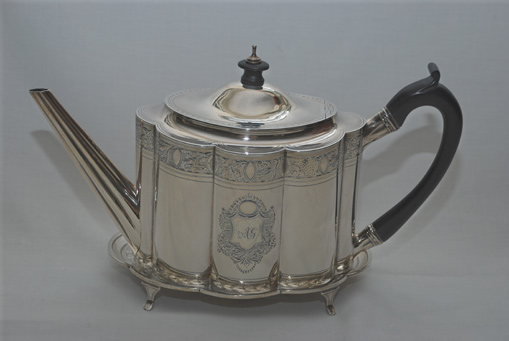 Fine George II Silver Teapot
Bullet/apple shape #20067
London, c. 1730
Maker: Richard Gurney & Thomas Cooke II
(Grimwade #2324, extered 1727)
Engraved contemporary arms of a lady
Faceted swans's neck spout, cast baluster finial, flush hinge lid
Height x width: 4 inches x 7 ˝ inches Weight: 9 ounces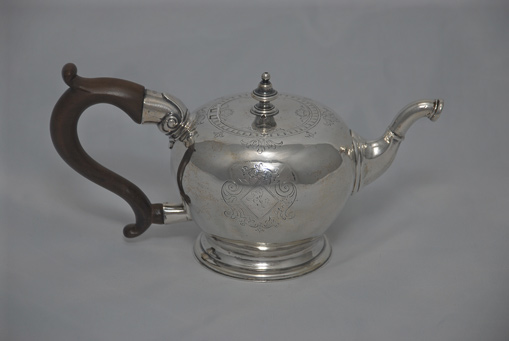 American Coin Silver Teapot
[
SOLD

]
New York, N.Y., c. 1850 #20066
Maker: Eoff & Sheppard
Retailed by Ball, Black & Company, c. 1851
Finely engraved contemporary coat of arms with ebony handle
Height x width: 4 inches x 7 1/2 inches Weight: 9 ounces
Old Sheffield Plate Teapot
Sheffield, England, c. 1820 #20062
Carved Pearlwood handle with cast, screw retained finial
Monogram A in cartouche, applied shell decoration to spout
Length: 11 1/2 inches Height: 7 3/4 inches

American Silver Mote Spoon
Philadelphia, Pa. c. 1888 #20078
Makers: Davis & Galt

George II Silver Mote Spoon
London, c. 1739 #20076
Maker: Richard Pargeter
(Grimwade mark #2418)
Length: 5.5 inches


George II Silver Mote Spoon
London, 1758 #20077
Maker: Fuller White
(Grimwade mark #733)
Length: 5 7/16 inches

George III Silver Sugar Nips
London, c. 1760 #20090
Maker: Henry Plumpton
(Grimwade mark #1059)
Engraved with crest
Length: 4 3/8 inches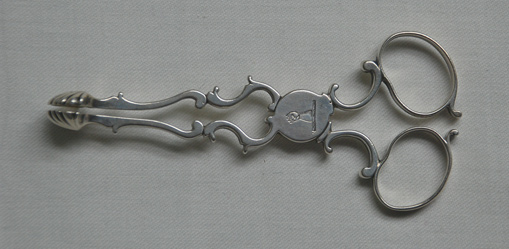 American Federal Silver Sugar Tongs
Philadelphia, 1790 #20006
Maker: Joseph Richardson, Jr.
Bright cut, feather edge engraving
Engraved with monogram ME
Length: 8 inches



American Sterling Silver Tea Caddy -
[
SOLD

]
Retailed by: Tiffany & Company, N.Y. #20064
Made in France for Tiffany & Co.
French hallmarks with Minerva Head with #1 mint mark (for .950 silver)
Octagonal shape, applied gadroon shoulder and top Height: 5 ˝ inches Width: 3 ˝ inches