The dividing line between salvers and waiters, on which small objects were presented is largely a matter of size. We refer to "waiters" as those fashioned smaller than 9 inches (23mm), and salvers being those designed larger than 9 inches. Waiters were often made en suite with a salver as part of a toilet service (about 1715), and often square with shaped corners. Salvers are difficult to make and are largely produced by specialists, most notably Abercromby. Early 18th Century variations included molded borders such Chippendale (piecrust) – its scrolls and curves popular at all times, and mid-century, Rococo, shells varying the theme. From 1735 – 1770, beaded borders became the most popular form.1 Salvers can have elaborate cast feet applied to the bottom.



---
Rare, Fine George III Silver Oval Salver
London, 1776 #20228
Richard Rugg
(Grimwade mark #2421)
Beaded border with four cast ball & claw feet
Engraved with contemporary coat of arms for Buckingham
Length: 17 inches Width: 13 ¾ inches Weight: 55 ounces
George III Silver Circular Salver
London, 1799 #20221
Makers: Thomas Hannum & John Crouch II
(Grimwade mark #2805, entered 1799)
Beaded border with four beaded bracket feet. bright-cut decoration to border and surround to center arms, engraved with contemporary arms, of Chambre of Halhead Hall and Kendal, Co. Westmoreland
Diameter: 17 inches Weight: 73 troy ounces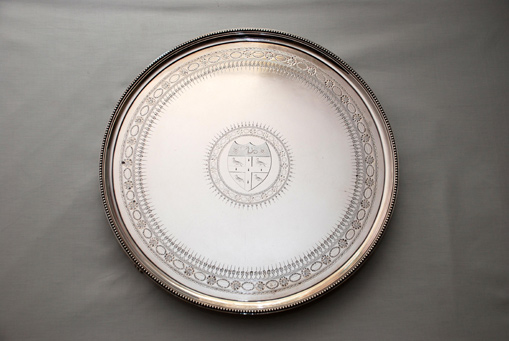 Georgian Old Sheffield Plate Salver
c. 1810 #20226
Silver wrapped border, the base flat chased with scroll and flowers, the center engraved with a coat of arms; excellent condition and good weight
Diameter: 10 ¾ inches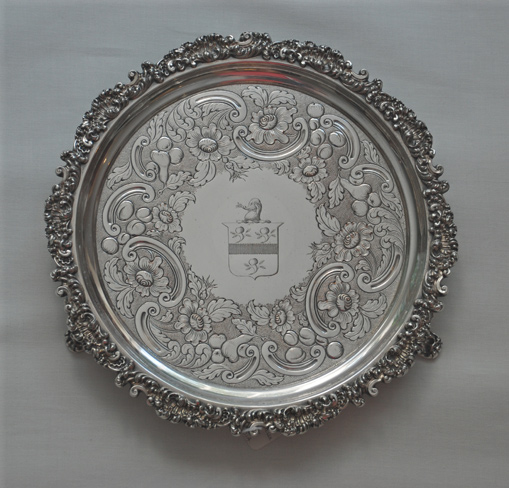 Victorian Silver Salver/Waiter - #20229 - SOLD
London, 1896 Maker: Hawksworth, Eyre & Co. Ltd.
Provenance: Elizabeth Wister family of Philadelphia
Engraved with monogram initials EW
Diameter: 6 inches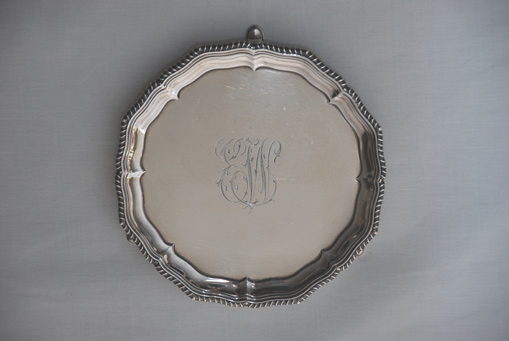 George II Silver Salver - SOLD London, 1738 #20224
Maker: Robert Abercromby
Bath border engraved with contemporary coat of arms
Diameter: 8 inches





George II Silver Salver
London, 1776 #20222
Makers: Robert Jones & John Scofield (Papworth, p. 285)
Four cast ball & claw feet (see detail)
Arms of Chesby Co. York, finely engraved
Diameter: 14 inches Weight: 28 ounces 6 dtw.






George III Silver Salver
London, 1790 #20223
Makers: John Crouch I & Thomas Hannum
(Grimwade mark #1233)
Reeded border with four reeded scroll French feet, bright cut engraving with crest; Motto: "confido" - I trust
Diameter: 14 3/4 inches Weight: 49 ounces troy






George III Silver Salver
London, 1766 #20230
Makers: John Crouch I & Thomas Hannum
(Grimwade mark #1233)
Diameter: 13 inches Scratch weight: 36.4 ounces





George II Silver Salver - [SOLD]
London, 1739 #20225
Maker: Robert Abercromby
(Grimwade mark #2258)
Alternating shell & scroll border on three hoofed feet
Diameter: 10 ¼ inches Weight: 20.7 ounces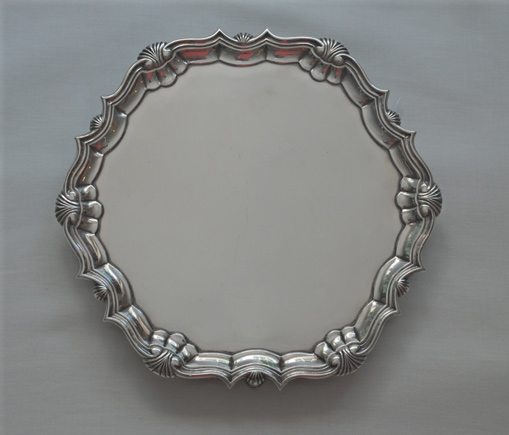 1
Holland, Margaret,
Silver,
Oxford, London, 1978, . 110-112